Anonymous online survey titled "Sex and Relationships in the Time of COVID-19" conducted March 21 & April 14, 2020, consisting of 1,559 adults (71.1% female, 23.4% male, 4.5% nonbinary*/other genders, 52.7% heterosexual, 19.5% bisexual, 7.8% queer, 7.3% pansexual, 7% gay/lesbian, 5.7% other sexual identities)
(For more information, see the Topics Coronavirus Lockdown & Sex, Kinky Sex, Masturbation, Sexual Health)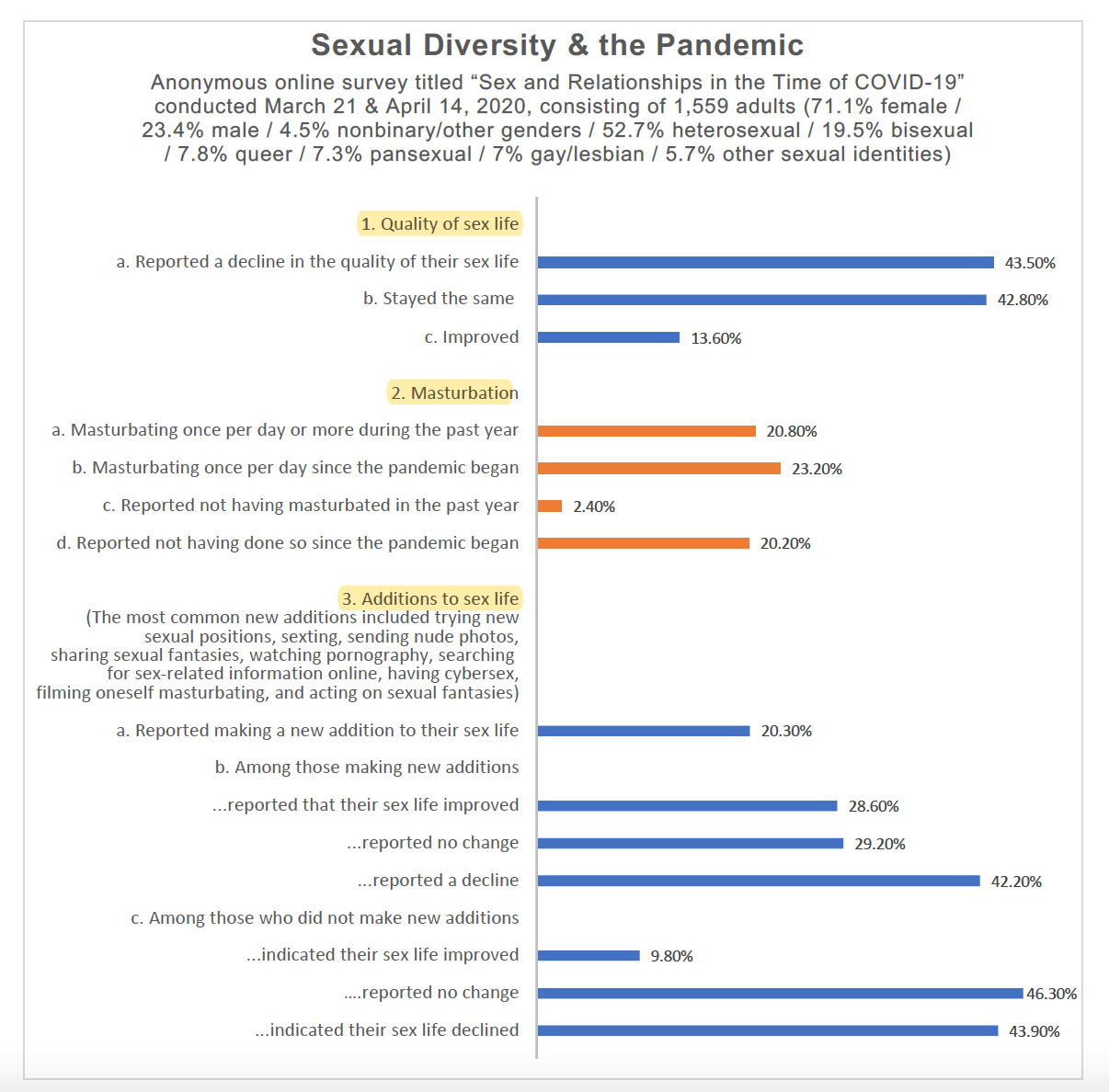 Justin J. Lehmiller, Justin R. Garcia, Amanda N. Gesselman & Kristen P. Mark, "Less Sex, but More Sexual Diversity: Changes in Sexual Behavior during the COVID-19 Coronavirus Pandemic," Leisure Sciences, tandfonline.com, 4/23/2020.
"The final sample consisted of 1,559 adults who completed an anonymous online survey on 'Sex and Relationships in the Time of COVID-19' between March 21 and April 14, 2020. Only those participants 18 years of age or older who completed enough of the survey to address the research questions of interest were included in analyses….Standardized messages were posted to public social media platforms, which were widely shared by other social media users. Data collection was conducted in accord with our disciplinary and institutional ethical guidelines. All research procedures were approved by Indiana University's Institutional Review Board."
"Abstract: Recreational sex is a popular form of leisure that has been redefined by the COVID-19 (coronavirus) pandemic. 'Social distancing' rules have imposed limits on sex for leisure while also creating new opportunities. We discuss results from an online survey of 1,559 adults who were asked about the pandemic's impact on their intimate lives. While nearly half of the sample reported a decline in their sex life, one in five participants reported expanding their sexual repertoire by incorporating new activities. Common additions included sexting, trying new sexual positions, and sharing sexual fantasies. Being younger, living alone, and feeling stressed and lonely were linked to trying new things. Participants making new additions were three times more likely to report improvements in their sex life. Even in the face of drastic changes to daily life, many adults are adapting their sexual lives in creative ways…."
* "To be a non-binary person is – essentially – exactly what it sounds like: To identify yourself, and your gender, as existing outside of the binary definitions of man or woman, masculine or feminine," glaad.org, 7/14/2019. Article on glaad.org titled, "9 young people explain what being non-binary means to them," by Kylin Camburn, Glaad Campus Ambassador.
Chart created and posted by SexEd.net November 2020