A SKYN Condoms April 2018 Millennial Sex Survey of 3,938 adults ages 19 – 36
The sex habits of polled Millennials, born between 1981 and 1996, from their views on those who have had multiple sex partners to how many have faked an orgasm to the percentage of Republicans and Democrats who have sex once a week.
(For more information, see the Topics Kinky Sex, Polyamory, Sexting)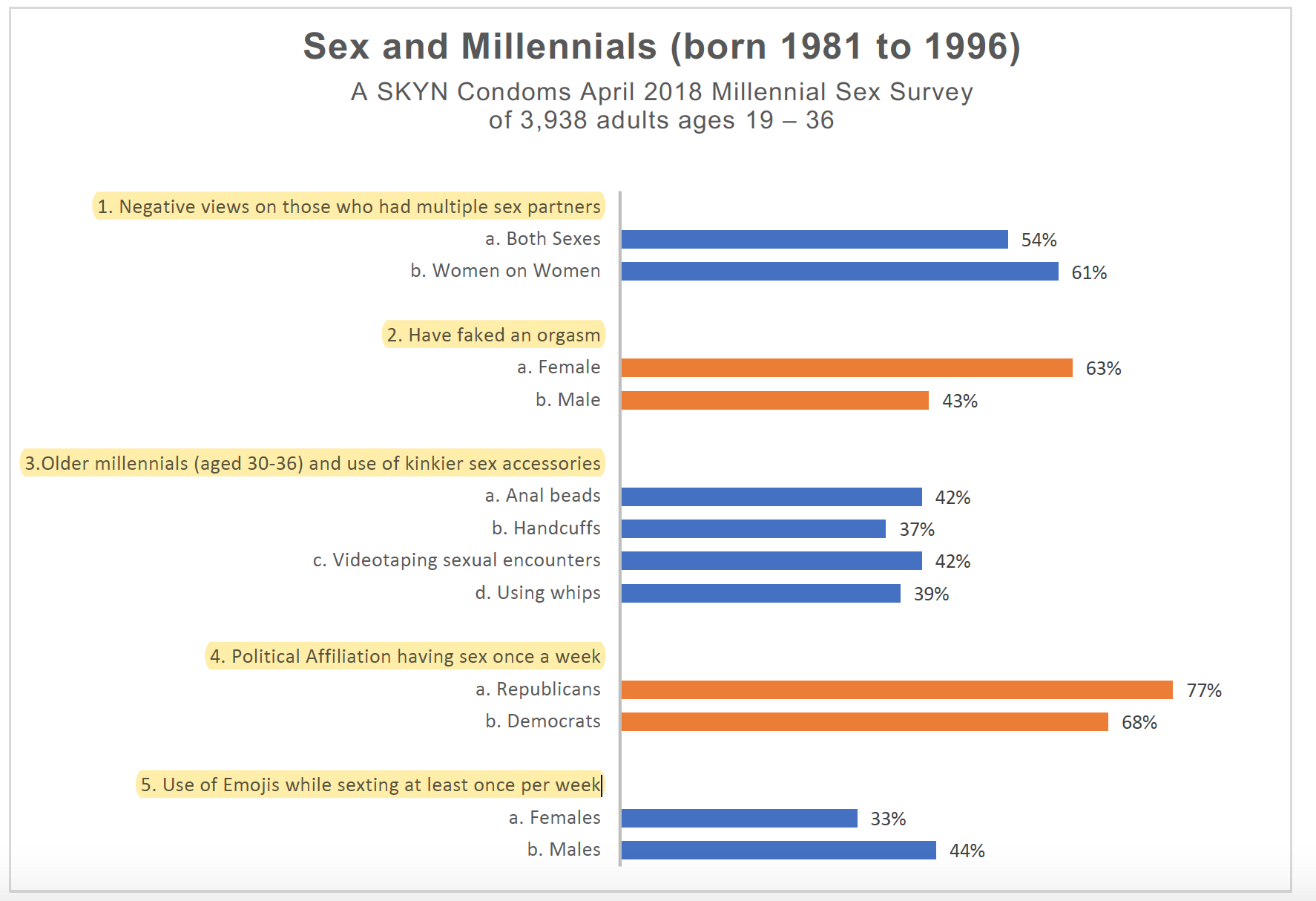 "Survey Methodology: Conducted by AMP Agency on behalf of LifeStyles and SKYN Condoms, the survey targeted males and females between 19 – 36 years of age, of all sexuality and relationship types, who were sexually active in the last 3 months. The survey was conducted from December 1st, 2017 to December 30th, 2017. A total of 3,938 respondents answered 81 questions and completed the survey online via email. The margin of error (MOE) for all respondents is +/-1.6% at a 95% confidence interval based on the principals of probability sampling theory reaching a nationally representative sample of the United States and Canada.
About SKYN Condoms by LifeStyles: Based out of Iselin, NJ, the SKYN brand of condoms was launched by LifeStyles in 2008 as the first-ever polyisoprene, non-latex condom that met all the U.S. Food and Drug Administration requirements for safety and efficacy. The SKYN collection is the latest extension of the LifeStyles brand portfolio, which was launched in the U.S. in 1985. SKYN is the leading non-latex condom brand, and LifeStyles' core latex brands, such as LifeStyles, Jissbon, MANIX, Unimil and Blowtex, have 120 collective years of history, deeply rooted in each local market globally. More information on SKYN condoms can be found at www.SKYN.com."
Chart created and posted by SexEd.net November 2018